Note: This post is the second in a series on direct-to-consumer media companies. Read the first, "Why media companies should be direct-to-consumer" here.
One year after launching Bleacher Report, we were reaching millions of users and growing double digits each month. We also had a massive problem.
For the first twelve months, our growth model worked exactly as planned. We cultivated a community of sports fans who published hundreds of articles every day. Our team optimized each article for search. Then we monitored their performance to glean insights into our audience. Sharing those insights with our community helped them publish more high performing articles.
New visitors grew as we published an ever-increasing quantity of search-optimized articles. Some of those visitors also decided to start writing, growing our output further. Every story we published added to our dataset that helped us understand which topics brought in the most readers. This flywheel effect fueled our rise from obscurity to a sizable audience.
Yet beneath the surface lay a fatal flaw.
We first realized it when our audience numbers started to plateau. Looking closer at the metrics, the reason was obvious:
Retention.
Although millions visited the site each month, only a small percentage of those visitors ever returned.
Almost eighty percent of our audience found us via search. We had developed a successful approach to filling the top of the funnel. But without a product that could retain and engage audiences further down the funnel, we were going to be toast.
This was a classic "Leaky Bucket" problem. Our UGC-search flywheel delivered us millions of interested readers each month. But the rest of our product failed to capture their interest or create loyalty. Our SEO strategy filled up the bucket every month. But the audience leaked out. The next month we would have to start all over again from scratch. We knew that our ongoing existence depended on fixing the leak in the bucket. Building a stickier product became our crusade. Without it, Bleacher Report would not succeed.
A few months into the "Leaky Bucket" efforts, we stumbled on a solution. But we almost shot it down before it could rescue the company.
I opened the site one day and discovered something unexpected. Halfway through reading an article about Manny Pacquiao, a lightbox-style modal appeared over the text. The modal encouraged me to sign up via email. In exchange, I would receive a newsletter featuring the best recent boxing articles.
It looked like this:
The call-to-action was specific, unique, and compelling. The only problem was, we didn't have a newsletter. Let alone the capabilities to send out unique newsletters for every team and topic Bleacher Report covered.
Without consulting anyone, my co-founder Bryan had worked with our engineers to stealthily launch the modal. After we discovered it, he laid out his vision for turning Bleacher Report into an email-focused publisher. My co-founders and I were not convinced.
These email modals are everywhere now. Many still despise them. Back in those days, they were a rarity. We were apoplectic over how they would detract from the user experience. The fact that Bryan launched the modal without our blessing also irked us. And then there was the whole question of delivering on the modal's promise. How would we go about developing and launching unique newsletters for dozens – perhaps hundreds – of teams and topics?
We pressed to take it down until we could reach a consensus. But Bryan convinced us to leave it up over the weekend as a test. We should at least see how well it converted, he argued. So we went ahead.
After the weekend the results were clear. Over 2% of site visitors signed up for newsletters. While this number may not seem sky-high, it is a great starting point for conversion to email on a content site. Especially for a site without existing brand recognition.  Other engagement metrics like time spent and bounce rate felt no impact. This quieted our concerns over user experience.
By leaving up the modal, we could convert tens of thousands of readers per month to email subscribers. By focusing on conversion, our subscriber growth would compound over time as our site traffic grew. We could fix the hole in the bucket.
So we left it up. And that was the turning point that saved the company.
Committed to this strategy, we focused on optimizing for conversion. We split tested modal designs to improve performance. One impactful tweak was changing the color scheme. Whatever team you were reading about, the look of the modal would match that team's colors. We also tried out different logic for when and where the modal appeared. That way we could find the best time for conversion with the least negative impact on user experience.
Looking back, I can see how our concerns over user experience were overblown. The real risk to our business was our product's failure to engage users or bring them back. Without that, it wouldn't have mattered how beautiful and functional our UX design was. The lesson: don't let concerns about UX be the enemy of solving big business problems.
By creating stickiness via the promise of tailored newsletters, we were also solving a problem for our readers. They didn't have to spend their time searching the internet for articles about their team. Our editors would curate the best for them, and deliver that via email. Rather than detracting from the experience of our sports-hungry readers, we were making their lives easier.
The only missing piece was figuring out how to curate and send the newsletter themselves. This was no easy feat.
We decided early on that our newsletters would feature not only Bleacher Report stories, but also curated stories from around the web. This was a critical choice as the newsletters became a "one stop shop" for news and information about each team or topic.
After settling on an ESP, we built custom curation tools to enable editors to build newsletters quickly and efficiently. The primary tool resembled an RSS reader. A newsletter editor could quickly sort through articles from Bleacher Report and a hand-picked list of other sources. With a few clicks, they could choose the best articles for the newsletter. Those headlines would then populate in a template. After making any tweaks, the editor could then send off that edition to our subscribers.
When we launched our first newsletters, the open rates and click through rates were through the roof. Some teams had open rates as high as 80%. Unsubscribes were virtually non-existent. We continued to build out our tools and a workflow to support custom newsletters for dozens and eventually hundreds of teams and topics.
Note: I plan to write more about the workflow we developed to scale such an ambitious newsletter program in a future post. Subscribe here to make sure you don't miss it.
Email newsletters plugged our leaky bucket and became the missing piece of our growth model. The flywheel started spinning again. Repeat visitors and engagement metrics soared. Soon, we were setting new audience records on a monthly basis.
Newsletters also became a new, critical spoke of the flywheel. Our ability to send curated stories to growing lists of highly engaged users resulted in a treasure trove of insights. By testing different content types, story frames, and headline variants, we learned more about the preferences of each fanbase. This data informed our editorial strategy. That in turn led to more search growth, more converted subscribers, and even more engaging newsletters. The flywheel cranked up to max speed.
Not long after, we took everything we learned from the newsletters to build the Bleacher Report Team Stream app. Team Stream became one of the first sports aggregator apps in the app store. Like the newsletters, the app offered curated content personalized to your favorite teams and topics. We utilized similar conversion tactics to encourage mobile site visitors to download the app. It was an immediate hit.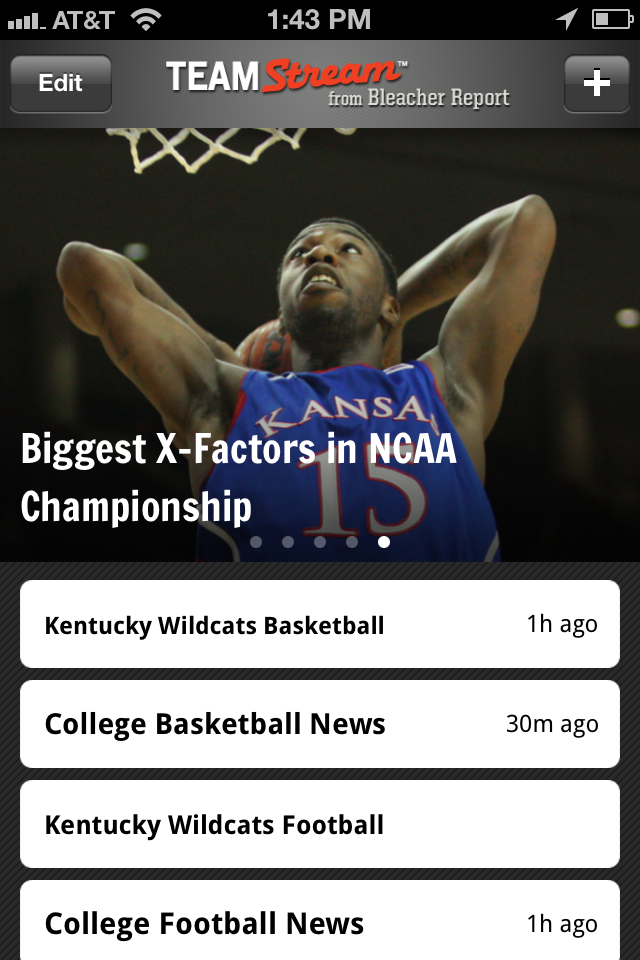 Newsletters and the TeamStream app became the saviors of the company. They were the inflection point that led directly to our exit a few years later. Focusing on conversion transformed us from a sports site with a flyby search audience to a brand with a massive loyal and engaged fanbase.
The key? Realizing we couldn't survive by depending on other platforms for our audience. We would continue to find new readers via search, social, and other sources. But our core focus was converting that audience so we could own the customer relationship and our distribution.
And that is how we won.
---
If you enjoyed this post, follow me on Twitter here.
Or subscribe below to get my essays via email.